WE EXIST FOR THE MOSAIC OF STUDENTS IN GRADES 6-12 AT GRACE YOUTH WHO ARE LEARNING TO OWN THEIR OWN FAITH AS THEY STRIVE TO LIVE LIKE JESUS.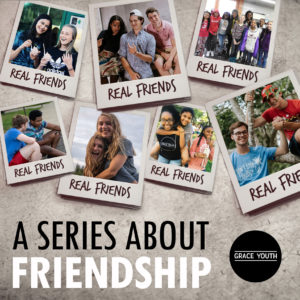 This month we are talking about FRIENDSHIP.
Guest Speakers:
SEPT 11: Norflette Shumake
SEPT 18: Matt Mancinelli
SPET 25: Donzelle Ringold
Upcoming Grace Youth Events
There are no upcoming events at this time.
Doors open at 6:30PM and worship begins at 7:05PM. Pick up is at 9PM.
Questions? Email Cindy Nicholson.