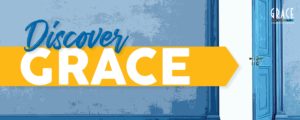 Discover Grace is suspended currently due to COVID-19 concerns. Please watch for updates.
So, you're considering membership? Committing yourself to a body of believers is weighty, but it's also wonderful. When you become a member of Grace, you commit to being part of a spiritual family that provides encouragement and support and you are called to a biblical degree of responsibility, service and sacrifice to fellow brothers and sisters. Our elders and leaders also pledge to assist our members with care, counsel, prayer and teaching. A meal will be provided.
When you are ready, we invite you to engage in the membership process:
PERSONAL REQUIREMENTS FOR MEMBERSHIP
1. Salvation – a personal relationship with Jesus Christ
2. Baptism – adult believers baptism by immersion
3. Attendance – three months of faithful attendance and service at Grace
THREE-STEP MEMBERSHIP PROCESS
Attend the Discover Grace Class
Sign the Membership Covenant
Complete an elder interview
DISCOVER GRACE CLASS
This class is a great way to get to know more about Grace and meet some of our church leaders. We encourage people that are checking the church out to attend. You're not obligated to become a member just by attending, but it will give you a good insight into who we are. It's also the first step in the membership process.
Questions? Email Paula Smith, Director of Connections, or give her a call at 313.936.1513.