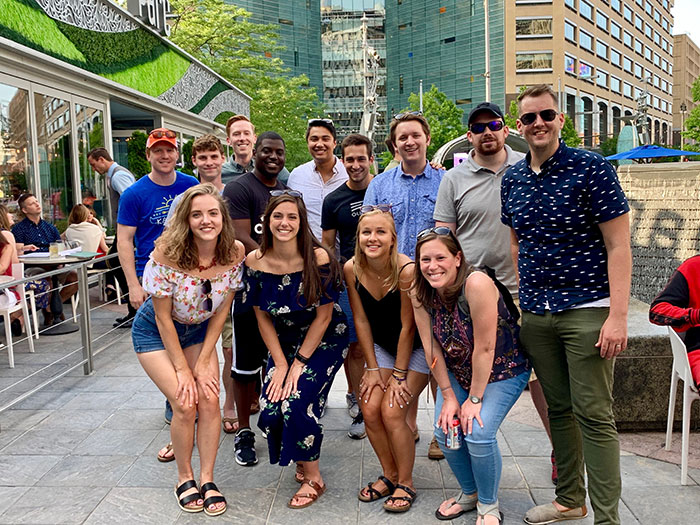 Dear Potential c-Group Leader:
Thank you for exploring the possibility of leading a c-Group!
At Grace, each c-Group has its unique DNA designed to express the gifts, connectivity, and passions of its members. We have a group for those parenting non-biological children, a group for new attendees at Grace, self-care groups, groups that study the Bible and topical issues, and many other profiles. I invite you to prayerfully bring your creativity to the design of your c-Group's DNA.
Our groups meet in living rooms; some are on our church campus while others are hosted in individual's homes. If you plan to meet at Grace, please let me know so I can make room arrangements for you.
Following you will find information that communicates our expectations and recommendations for c-Groups. If you are interested in launching a group, contact me – I am here to assist you! Please let me know how I can be of help.
Blessings,
Tekiendria Batts
Groups Coordinator
tbatts@gracewired.com
313.936.1533
What is a c-group?
C-groups are unique in various delightful ways, yet core to each group's purpose is forming Christ-centered community that allows its members to journey together beyond the Sunday service experience.
Optimal size is 8-14 members.
Always open to new people with plans to multiply periodically.
DNA designed to express the gifts and passions of the group.
Why are c-groups necessary?
It is the primary space for living out the "One Another" statements of the New Testament.

It is the place for care and spiritual growth in the church body.
What's required of a leader?
An honest and deepening relationship with Jesus
Articulate clear direction and DNA of your group
Ensure a plan is in place for each meeting
Member or on track to be a member of Grace
Complete the Journey process within three years of starting a c-group
Actively recruit group members
Communicate church news as needed
Intentionality for diversity (not limited to but including race)
Identifying and empowering a co-leader
Preparing for and planning to multiply
Reasonable availability to your group members
Coordinate date, time and place of meetings
What's recommended of a leader?
Follow sermon notes or select a group study
Have food and/or beverages at your meetings
Organize service opportunities
Meet twice monthly September – May
Meet once monthly June – August
What kind of support will I get as a leader?
Two or three leadership equipping events a year
Access to Meg Kempton and Sandy Seaton – Groups leadership team.
Resources
CCB & LEAD App – Church Community Database
Rightnowmedia.com
You Version Bible App
Outreach Opportunities (contact Meg Kempton)